Introducing Braid (previously Compound)
A first email from your friends at Braid.
Hello!
We hope you are doing well given the uncertain and incredible times we are collectively navigating, and that you are staying safe. You signed up for Compound's email list at some point, which will now start publishing more regularly.
We're excited to share that we're now Braid. Today, we want to tell you more about what we've been building, and going forward we'll use this email list to send community, product and company updates. If you haven't tried the app yet, check it out and let us know what you think, and if you have, please update. There have been a lot of recent changes. Download here (iOS and Android).
We've gotten a lot of feedback from our early users and look forward to more from you all as we grow. Braid is going to be on Product Hunt (a community website for new products) this Wednesday and we'd love your support! Follow us on Twitter for updates: @braid_app.
Wait, what is Braid?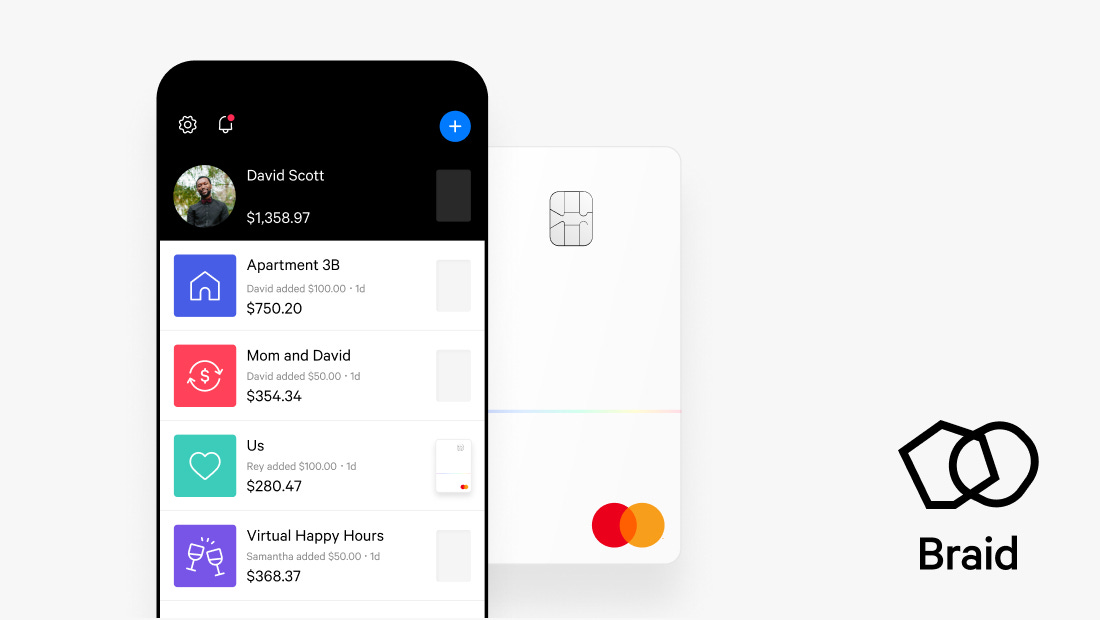 Braid makes it easy to create group accounts for shared expenses. The only product that does this currently is the joint bank account, which is a clunky product that's often hard to set-up and manage. Many people dislike them. They don't work for certain use-cases like roommates and friends. We wanted to create something that was more lightweight, and could be used with any bank.
With Braid, you can create groups, add money, and spend right out of the shared balance. This eliminates the need to track expenses after-the-fact (no more spreadsheets). You can set permissions to specify who can spend the money and how, and use the unique account/routing numbers and virtual cards to organize all your shared expenses. Check out our new website to learn more.
Why should I use it?
Sharing money can be painful, especially for ongoing expenses with roommates, family members, significant others, etc. Most people use a combination of Excel, Splitwise and Venmo/Cash App/Zelle, but all of these options involve tracking expenses and settling up at some point.
Braid works best for ongoing, shared expenses with someone in your life, whether it's sending money to your elderly parent every week, sharing money with a significant other, or dividing up quarantine expenses with your roommates.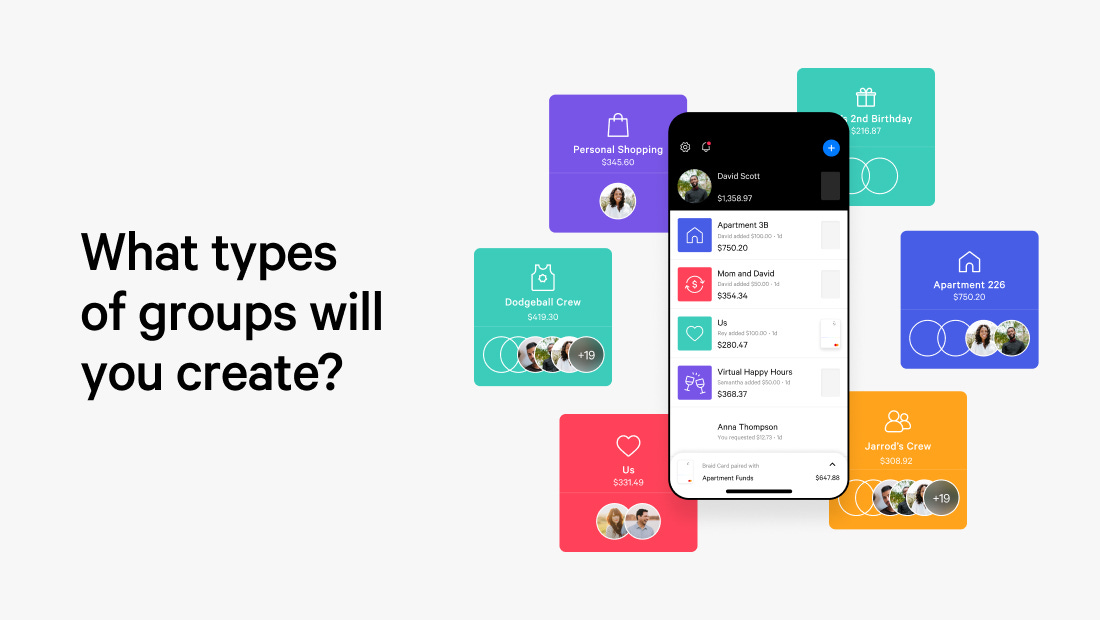 How are other people using it?
We've seen a lot of interesting and diverse usage so far. For example:
Couples who use it as a lightweight joint account

Roommates using it as a house account

Sharing money with family members as a way to help/support everyday expenses

Divorced co-parents who share childcare expenses

Social envelope budgeting
Have a different way you want to use Braid? Email us: hello@braid.co and learn more about Braid groups here.
How does the card work?
Our debit card is different than most debit card you use. Instead of one card that is connected to one account, the Braid Card can pair with any of your groups. You do this by tapping next to the group, directly in the app. That means you can buy toilet paper at Target and spend out of your apartment group, and then go meet up with your sister for an outdoor, socially-distant coffee and with one tap, spend out of your family group.
Is it safe?
We are using best-in-class security and safety measures to ensure that your money and data are safe. We use Plaid to collect your bank credentials, and we never see them nor have access to them. The personal information you provide when you sign up is encrypted and transmitted securely.
How can I download it?
Braid is available for iOS and Android. If you were previously using Compound, please update your app, and it will automatically update to Braid.
If you'd like to unsubscribe, there's a link at the bottom (we totally understand). We look forward to hearing your thoughts + feedback! You can reach us at hello@braid.co or on Twitter at @braid_app.
Thanks,
The Braid Team